Hey ladies,
I realized that I've gained quite a few followers since I began writing over at
SPA
. Today, I resumed my current study "
Becoming a Woman of Purpose"
since I finally found the book (sneaky movers packing things we didn't want packed!). So if you'd like to join in on this study feel free, you can catch up via
my note
or the sidebar. If this study doesn't sound like your thing, the other ladies are writing on multiple subjects, we also have a "
past studies
" page that you can go through at your own pace. Feel free to ask questions/leave comments!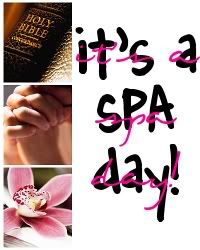 [click the image to head over to the SPA!]
God Bless,
~Skinnie